When I think of necromancers, I imagine a cross between a Zen Buddhist monk, an amateur surgeon, and a hardcore survivalist preparing for the end of the world. It's not about raising an army of the dead and taking a kingdom, it's about being the last man standing when the Sun falls out of the sky. It's about living forever. This is someone with the apocalypse constantly on their mind, thinking of contingencies. That obsession with survival made me think of an astronaut's space helmet, a kind of sealed, self-contained piece of headwear that could protect the skull and seal out dust, fire, and the vacuum of space.
I started to wonder what a survivalist necromancer's helmet would like, so I drew on some of my favorite helmet designs from across all kinds of media, from Neon Genesis Evangelion and Elfen Lied to Daft Punk and TES III: Morrowind. The final product was appropriately macabre, frightening, and functional for someone bent on eating souls and living forever.
The Elder Scrolls III: Morrowind: The Native Chuzei Bonemold Helm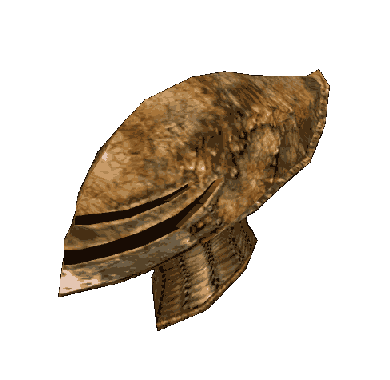 (If you haven't read my long-ass post about how Morrowind should be the gold standard for fantasy worldbuilding, read it here)
Morrowind's Bonemold armor is so damn cool: crafted from bonemeal, the individual pieces of armor are molded in hard, light shapes, like the lacquered wooden armor of samurai. Each Dunmer House has its own style of armor, with their own custom helmets and shields, each reflecting their own unique character. House Redoran's helmet had a shawl to keep out the dust and House Telvanni had some kind of insane squid helmet because they're weird-ass wizards who live in mushrooms. But the single coolest helmet in the history of fantasy gaming is the Native Chuzei Bonemold Helm.
The swept-back design with the swooping crest on the back and lack of conventional eyeholes in favor of dual slits made it look intimidating, alien, and sort of like a grinning, demonic face. I loved this helmet, and I wanted to steal its design for any kind of helmet I made in the future.
Daft Punk: Guy-Manuel de Homem-Christo's helmet
I have an obsession with Daft Punk, especially their helmets. There's something about the anonymity of masks that makes the wearer larger than life. My favorite version of Guy-Manuel's helmet is still the one used in ELECTROMA.
When I was still in high school, I actually attempted to make Guy's gold and black helmet from a skateboard helmet, a motorcycle visor, and a paintball mask:
I loved the helmet design so much that I wanted to incorporate in my stories, which is where Guy Manuel's helmet merged with the Chuzei helm to create the helmets that the Elves in my stories wear:
Elves in my stories are the end-products of generations of the pursuit of immortality: humans warped and altered into a completely different species. Their helmets, like my initial astronaut helmet idea, allowed them to survive the vacuum of space, like the starfish-headed Old Ones in H.P. Lovecraft's Cthulhu mythos. And like other human necromancers, survival was the ultimate priority.
The skull-hugging shape, smooth lines and lack of conventional eyeholes stuck with me in particular. But that changed when I saw…
Neon Genesis Evangelion: EVA Unit-01's helmet
Evangelion is my favorite piece of media, hands-down. Between the Kabbalah occultism, the Phillip K. Dick-inspired apocalyptica, the complex mathematics and existentialist philosophers snuck into the show, it is the Space Odyssey: 2001 of mindfucks. And they had some really cool robots.
There's a rumor that Hideaki Anno, the creator of NGE, wanted the EVA units to be extremely complicated so that the famously aggressive Japanese toy industry wouldn't be able to create action figures of them. In the end, we still got Evangelion canned bread.
The most beloved EVA unit, and my favorite, too, is Unit 01. It's got a kind of kabuto helmet, and its giant, toothed jaws are both really cool and absolutely horrifying once it starts screaming and eating other EVA units.
Yeah, the EVAs are nightmarish homonculi made of human flesh and bone grafted onto mechanical parts, animated by trapped human souls with the capability for madness and rage. The reveal that EVA Unit 01's helmet covers something approximating a metallic skull is one of the images from NGE that stuck with me. The teeth and jaw especially appealed to me.
Elfen Lied: Lucy's helmet
Elfen Lied is the most violent, gory, and traumatic romantic comedy anime ever (only half-joking here). From the opening minutes of the first episode, a naked pre-pubescent girl sealed in a helmet from The Man in the Iron Mask starts vivisecting, decapitating, and ripping the literal hearts out of a team of security personnel in a juxtaposition of eroticism, innocence, and relentless, brutal gore.
And damn is that helmet cool.
Lucy's helmet is relatively simple, both in its design and concept: round head and jaw piece sealed onto the skull to restrain a prisoner in a test facility. It looks suitably clinical, the kind of medical appliance you'd imagine would be in use in a telekinesis research facility. In Lucy's case, wearing this helmet isn't a choice–it's forced onto her, as a means of control, as if they were trying to seal her skull in a container, like an airtight jar.
The Necromancer Helmet: THE GRINNING MAN
Building off the idea of "the crownless king," the title I made for a necromancer who could survive decapitation, I wanted to create a helmet for a character who would keep their head sealed in a helmet like a safe. This would be Oroboro, the same necromancer mentioned in the Ergodica posts. From there, this character could actually substitute other people's heads for their own, as a sort of voodoo: with possession of another person's head, they could gain all of that person's knowledge, speak in their voice, and communicate with their ghost. The idea emerged of a necromantic collector, someone who collects trophies from their dead enemies and binds their ghosts to his helmet by stealing their heads.
I imagined an eyeless helmet with a hinge on the front, so the entire thing could open like a pear of anguish, and a removable jaw.
I decided to describe the helmet to a friend of mine, Joel, who has done a lot of fantasy concept art in the past. This is what I told him:
"When you consume someone's ghost or soul, you gain all of their memories, identity, and knowledge…he keeps the heads of people he values in his helmet, or their teeth embedded in it. The teeth are like quick-keys to call up the ghosts of those he wants to channel, and the head in the helmet is possessed. He's supposed to be an abomination. The helmet and everything connected to it breaks every rule I could think of when it comes to magical morality…I'm not sure how I want the jaw mechanism to work–I was hoping you could help me figure that out. The goal of it is to be able to unhinge the jaw, so he can take abnormally large objects into himself, like a snake. As for the material, I was thinking of either iron or heavily pitted and varnished wood."
After some back and forth about the lore behind the helmet, the magic and mechanisms, Joel produced this rough sketch, meant to depict an iron helmet:
Joel described his sketch like this: "I really liked the worked metal aspect around the teeth, like it's been scratched or welded into shape to hold the teeth, so I ran with that. Tried to give it more of the welded look, it makes it look almost flesh while the rest of the helmet is obviously metal. I thought the concave shape around the teeth gave it a more unnatural look and gave the impression that you almost had to dig out some of the mask to find the teeth underneath."
I loved Joel's sketch, especially the teeth–they evoke the ravenous, all-consuming potential of the eyeless Langoliers from Stephen King's story The Langoliers, as well as David Hine's graphic novel, "The Man Who Laughs," published by Self Made Hero, which was the inspiration for Batman's Joker. I decided to dub this helmet "The Grinning Man."
With Joel's rough sketch showing how it all would fit together, I decided to do a sketch of my own based off Joel's art, showing the complete helmet:
Conclusion
Necromancers can be a lot more than guys summoning skeletons. These are the people who are plumbing the depths of life and death, the decay of the body and the action of time, searching for the line between man and god, mortal and immortal. They can be horrifying in their own right, and they don't even need zombies to get the job done. And they can look absolutely terrifying while doing it.